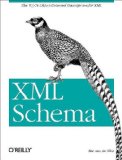 I had to create a XML schema at my job for the very first time. This is something that I have never done before and I was a total neophyte on XML schemas. A coworker has lent me this book and I would say that after having been through the book in 2 days, it did its job. I have been able to complete my task and I have created a fairly complex XML schema. One quality that I appreciate in technical books is when the book is entertaining and interesting to read. I know that for the non initiated, technical and entertaining might seem incompatible but I have read such books. XML Schema does not have that quality. However, it has the quality to be extremely good to make its readers learn XML schema. If you need to learn XML schemas, you can read this book. It will not be fun but once you are done with it, you should have a pretty decent understanding on the topic.
Another aspect that I have noted is that on very rare circumstances, that book was lacking clarity in my opinion. There are few sections that I was really trying to understand what the author wanted to explain but after many readings of the same section, I did gave up on trying. The section named 'Asymmetry of these two methods' in chapter 7 is one example of what I am describing.
In conclusion, after weighting in the qualities and the problems of this book, I can recommend this book with confidence for anyone that must learn XML schemas.